Dynamic Hatha Yoga DVD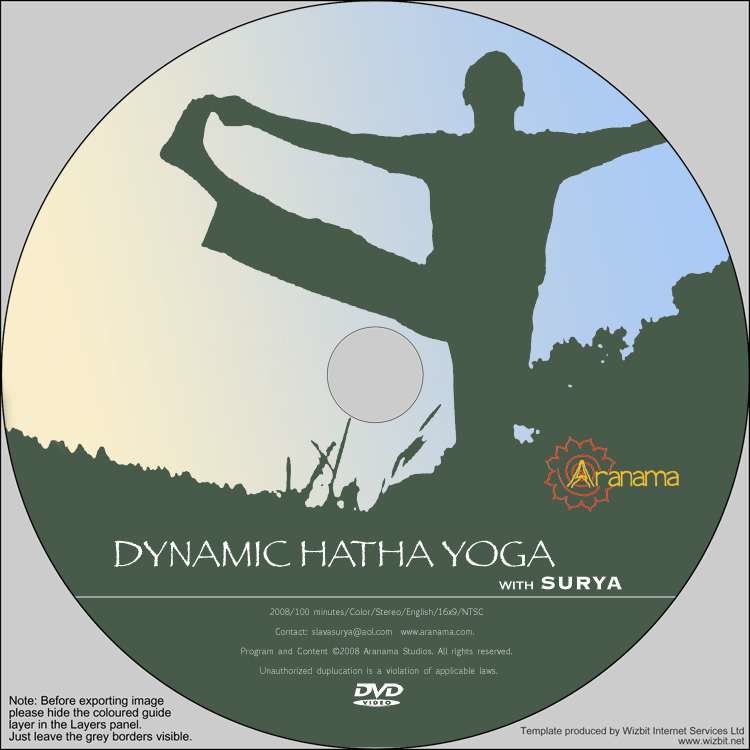 Filmed at the beautiful Big Laguna Lake on top of Mount Laguna, east of San Diego, CA, this Hatha yoga DVD contains a well-balanced yoga class with several dynamic sequences, lots of gentle yoga poses, and a clear meditative focus throughout.
A small lake-side patch of trees presents an ideal setting for an authentic yoga experience.
Originally titled 'Meditative Hatha Yoga', Surya's yoga DVD contains sequences that seamlessly flow into one another inducing a meditative quality. Look for that special quality in your practice!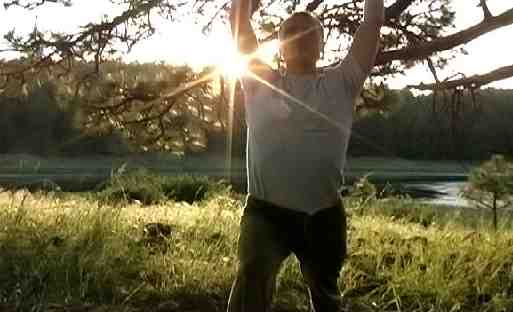 Dynamic Hatha Yoga DVD (a single copy) is now priced at $19.00 (includes standard shipping).
Order Surya's Dynamic Hatha Yoga DVD by clicking on the "Add to Cart"button below to pay by credit cards, debit cards, or Paypal account.
The video will take 5-7 business days to arrive in your mail.
---
What you get from this yoga class:
- Greater flexibility
- Even strength for all major muscle groups
- Increased energy level
- Improved mental focus
- Becoming grounded and centered by reducing stress and anxiety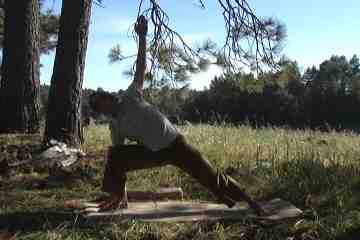 The full yoga class includes yoga asanas (yoga postures), Yoga Nidra (deep relaxation), Pranayama (breathing practices), and Meditation. About 90 mins.
The yoga asana section is split into five segments:
1. Warm-up
2. Standing yoga poses
3. Prone
4. Seated and
5. Supine yoga poses.
If you have the time, treat yourself to all of them. For a gentle full-body yoga workout, you may choose to perform the warm-up only (about 20 mins).
Deep relaxation, one of the most effective practices for stress reduction, can be extended to 15-20 minutes.
The breathing exercises can be explored by adding more rounds and increasing the duration of each practice once you feel comfortable.
The three meditation techniques on this video are only guidelines for beginning your meditation practice.
The class is appropriate for all levels, although beginners are strongly encouraged to proceed slowly, skip any uncomfortable yoga poses, and seek guidance from a qualified yoga teacher or yoga therapist.
---
WARNING!
Dynamic physical yoga practice is contra-indicated for certain serious health conditions such as diabetes, heart disease, osteoporosis, pregnancy, and uncontrolled high blood pressure. If you are unsure and have any other health concerns, please consult your health care provider/physician before attempting any of these exercises in this yoga video.
---
What Other Visitors Have Said
Click below to see contributions from other visitors to this page...

Kundalini Yoga

Experience the joy of Kundalini Yoga with Maya Fiennes, as she takes you on a journey through the Chakras. This DVD set is beautifully presented by this …