About Slava Surya
I was sitting on a hilltop in the twilight of the Siberian summer, with the black sky punctured by myriads of stars of the Northern Hemisphere.
Three pairs of eyes in front of me reflected the shine of the stars.
Our silence was occasionally interrupted by a distant sound of a warning horn of a river boat.
"Let your whole body relax where it is."
I observed myself uttering these words.
"Close the eyes, and imagine that your body is made out of brilliant light. Let every breath you take bring that light inside your body..."
The year was 1988. I was twelve. It was a typical summer night in Siberia, where I spent my childhood.
I had no formal meditation training. But I practiced and 'taught' meditation since I was about ten.
My parents practiced yoga and read books on Zen, Tibetan Buddhism, Sufism, and Yoga. I was lucky to grow up in that environment.
Years Later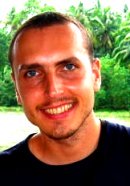 Slava is a guest instructor at multiple Yoga Teacher Trainings around Boston, MA, and teaches "Yoga Philosophy and the Yoga Sutras", "Pranayama and Yogic Energy Practices", "Walking the Yogic Paths", and "Yoga for Athletes, Stability, and Injury Prevention".
Slava has been a full-time yoga teacher and therapist since 2002, completing several Integral Yoga certifications, and Structural Yoga Therapy training with Mukunda Stiles in 2005. 
Integral Yoga is known for its integrated approach of combining Yogic values and philosophy into one's lifestyle as well as integrating Yogic wisdom into one's practice.
Slava started teaching yoga at the Integral Yoga Institute, in NYC, in 2002. He was given the name Surya by his yoga teacher, the late Yoga Master Swami Satchidananda, the founder of Integral Yoga.
In addition, to his yoga background, Slava has been a Neuromuscular Therapist and Thai Massage Therapist since 2005. 
He is the founder of East West Massage Therapy in Boston, MA, and Running Treks Adventure Travel Company.
To contact Slava, please email him at slava@eastwestmassageboston.com or slava@runningtreks.com.