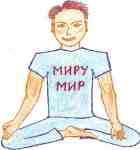 Everything is Energy.
Our body, breath, thoughts and intentions are all the same energy at different frequencies. They affect each other.
Positive affirmations are a way to send a frequency that aligns and harmonizes all other energies in you.
Try it:
INHALE, think or softly say: "Every moment as I breathe,"
EXHALE: "I feel better and better."
Go for a few minutes. You'll notice a huge difference. Try it anywhere, anytime. It's a sure and easy way to maintain positive mental attitude and reverse any negativity in your mind.
Have a Yoga Question? Ask Yogi Mir.
---
Featured yoga practice – Pigeon Pose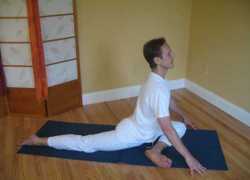 Keep the hips and shoulders squared to the front.
Back long. When comfortable, lift the ribcage up and emphasize a long arch in the mid back.
After a few breaths, come down to the elbows into the Resting Pegion.
Please practice mindfully! Breathe smoothly!
Benefits:
- grounds the "busy-mind" and erratic mental energy (Vata)
- opens the hips
- reduces mental stress
- reverses bad posture
- reduces back pain

Comment or recommend another yoga pose.
---
Upcoming Yoga Event: This Wednesday!
MAY 13, 2009
Surya's Yoga Class followed by a Dance Class lead by Stephanie Muir
11:00AM – 11:45AM Yoga
11:45AM – 12:30AM Dance
The Dance Complex, 536 Mass. Ave. Cambridge


We would love to see you there. It will be a lot of fun. The idea is to keep the tranquil meditative state created by the yoga class and carry it into the Dance class.

Folks in Boston, I need your support for the Monday 5:45pm yoga class in Newton! Show up. Tell others about it. Thank You! Click here to see the Full Yoga Schedule.

PEACE OUT
~ Yogi Mir
(translated from Siberian by Surya)

Have you seen Surya's Yoga DVD: Share a Quick Testimonial!

Surya's Massage Therapy Clinic in Boston