This is a really special issue of the Yoga Lifestyle News because it features a rare event.
As the story goes, Yogi Mir appeared out of a rainbow in a distant land of Siberia. A local photo enthusiast was able to capture this unique occurrence - Yogi Mir catapulting out of the rainbow.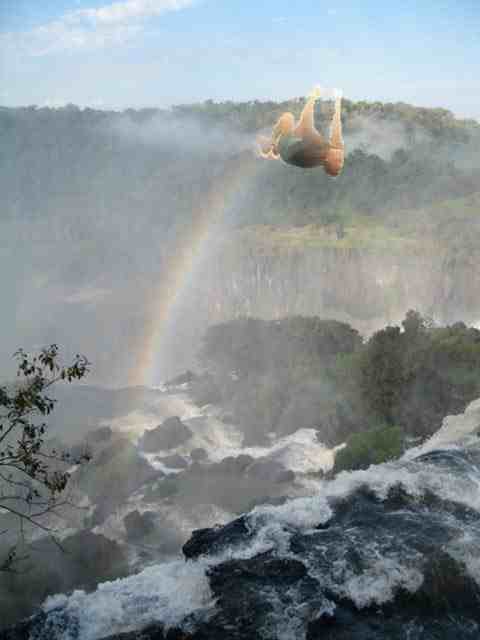 Yogi Mir is said to have the Rainbow Body, and is able to transcend the physical laws of nature.
The Rainbow Body is a body of brilliant light, achieved through self-realization and intense yogic practices. The Rainbow Body is so full of Prana, the universal energy, that the need to depend on any other energy source (food, water, air) falls away. The Rainbow Body exists on pure cosmic energy.
According to yoga, a pure vegetarian plant diet is one step toward the Rainbow Body because the plant foods have subtler energy than animal foods.
Another step to achieve a more pure physical body is a regular detoxification practice, like periodic/seasonal fasts. A short fast on water, or the Master Cleanser, allows us to get an idea what it'd be like to live without food when we finally achieve our own Rainbow Body.
Finally, a third step toward the Rainbow Body is a regular Pranayama practice, or Yogic Breathing. Having many physical and spiritual benefits, Pranayama extends one's life span by oxygenating and detoxifying the cells.
More Prana within the cells raises the cell vibration and increases the body's sensitivity to the cosmic energy. The body's sensitivity becomes so heightened that it continually obtains this cosmic energy and is able to synthesize all the necessary life elements from it.
Meditation Class
If you are in the Boston area, you are welcome to join our meditation class in Westwood.
Thursdays, 6pm-6:45pm
Center at Westwoods, holistic community at 590 Gay Street, Westwood, MA (781) 329-0711
Up-coming Workshop: November 15!
Ashtaspanda and "Quantum Rhythm" Yoga
Saturday, 11/15, 2pm-4pm
Facilitated by Surya Kolpakov
Held at Roslindale Yoga Center
If you have a question, or would like to make a comment, Ask Yogi Mir, and you will get it answered in the next issue of this newsletter.
Love and Light,
~ Surya
Surya's Yoga DVD: Now Available at Prana Yoga Center in La Jolla, CA
Aranama: Thai Muscular Therapy Studio