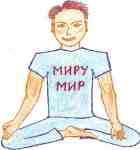 "If your thoughts are like clouds in the sky,
What is the Sky?"
~ Yogi Mir
Yoga Story
I am always reminded of the example of an apple tree which gives its fruits without expecting anything back. The apple tree is perfectly selfless. It's not attached to the results. If someone likes the apples, great. If someone doesn't, the tree will not be disturbed or lose its peace.
We can learn from the apple tree.
Reader's Question to Yogi Mir
"How can a yoga person who is wrestling with an immune disease increase his immunity? What are the rules to be followed, the food to be taken and not taken …"
Have a Yoga Question? Ask Yogi Mir. It will be answered in the next Yogi Mir News.
News and Events
This Sunday, September 20, 2009, is the Global Day of Peace. Check out the following events in Boston:

Roots and Shoots - Power of Youth Campaign

Global Mala Project - Yoga as Peace in Action

Surya's Yoga Classes in Boston.

PEACE OUT
~ Yogi Mir
(translated from Siberian by Surya)