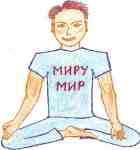 "Before Enlightenment,
There's a necessary period of Endarkenment."
~ Yogi Mir
News and Events
WORKSHOP CANCELED:
(Due to expected snow storm, my flight from Boston to San Diego was canceled, and isn't rescheduled until Saturday.) JANUARY 15, 2011, 1:00pm - 3:00pm
Saturday
"Hatha Yoga Master Class with Surya Kolpakov
Yoga Beyond the Physical: Exploring Breath, Energy and Stillness"
Prana Yoga Center, La Jolla, California

JANUARY 16, 2011, 4:30-6:00PM
Sunday
Hatha Yoga Class at Prana Yoga Center

Even though the above workshop is canceled, I will be teaching the Sunday Hatha Yoga class.
We will do many of the same practices that were planned for the workshop and some of the good old Hatha Yoga sequences.

FEBRUARY 13, 2011, 2:00-4:00PM
Sunday
Thai Yoga for Couples

Open Doors Yoga, Weymouth, Massachusetts
Pre-registration Required (this will sell out).
It's time to treat yourself and your better half! This workshop, especially for couples, will guide you though some of the wonderfully relaxing, releasing and nurturing techniques of Thai Yoga Bodywork.
Learn how to give a basic sequence of stress-releasing stretches, twists, and pressure points to someone special in your life. More focus will be made on the areas that hold the most tension: hips, lower back, and shoulders. Switch halfway though and receive the techniques yourself.
No experience or partner necessary.

PEACE OUT
~ Surya