Most of you already had a chance to check out Yogi Mir and his yoga lifestyle wisdom on Yoga Lifestyle Coach website.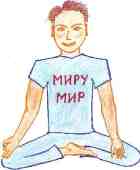 Here is Yogi Mir's insight of the week:
Did you know that chanting the sound "Om" or just 'humming' is a great way to reduce stress? Especially if you find yourself in a stressful situation.
Next time you are having an argument with someone, look at them in the eye, take a full breath, and let out the 'OM' sound. Nice and loud..
Just kidding about that last part, although that would probably stop the argument.
Humming, or Om-ing, takes the focus off the annoying distraction or the disturbing thought.
In addition, it creates resonance in the chest and the head that feels great.
Try it when you are driving. Try it now if you like.
For more stress-reducing habits, check out Yogi Mir's Tips for Stress Relief
---
My schedule updates:
1. NEW Meditation class!
Thursdays 6-6:45pm, Center at Westwoods, 590 Gay Street, Westwood, MA 02090
(781) 329-0711
The class is on drop-in basis. We'll explore different meditation methods, mostly deriving from yoga, and establish a personal meditation practice. We are trying to create a meditation community. So everyone is welcome.
2. "Quantum Rhythm" Yoga workshop!
Sunday 10/12, 10:30am-12:30pm, Shelia Donovan Studio, Canton, MA
To learn more about "Quantum Rhythm", please visit this page and scroll down to the bottom.
---
I am going off the grid for the next few days. Yogi Mir and I will answer any questions and comments when we get back from the wild.
Love and Light,
Surya