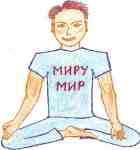 "If we really live many lifetimes, why not make a choice about what you want to do in THIS lifetime. Instead of trying to do everything in one life, just make one simple and definite choice. In your next lifetime, you can make a different choice."
~ Yogi Mir
San Diego Trip: July 17-23
If you like to schedule a Thai Muscular Therapy session, let me know please. My schedule will fill up fast.
What I do is work with:
a) athletic individuals who want to improve their performance and energy; and
b) people with injuries who want to be pain-free and maintain high function living.
"Hatha Flow Yoga" with Surya
Prana Yoga Center, 1041 Silverado, La Jolla
July 18, 10:30am – 1:00pm
2.5-hour workshop on raising your energetic level with yoga; flowing with ease and awareness; healing at the cellular level.
Please Call Prana to Register: 858-456-2806
Click here to see the Boston Yoga Schedule.
PEACE OUT
~ Yogi Mir
(translated from Siberian by Surya)
Have you seen Surya's Yoga DVD: Share a Quick Testimonial!
Surya's Massage Therapy Clinic in Boston