Celebrate Life: A Story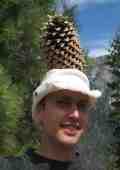 I have a friend who truly sees the world with the eyes of a child. With beginner's mind. He is so incredibly excited about every thing. It's fun to be around him.
One day he calls me and declares: We are having a celebration! We bought a whole bunch of different fruits and we are celebrating every piece of fruit as we eat it. Will you come and join us?
Immediately, I found myself smiling at the simplicity of that.
It is such a wonderful concept to celebrate life with our different actions, especially with food. It's very easy to appreciate good food.
That is what life is, it is a celebration, this whole universe is a celebration of existence. Every thing in the universe celebrates life in its own unique way. Why does a flower bloom? Why does it give fragrance? Why is it beautiful? The mind always asks this question. What is the reason for this, or for that?
... It is for fun, for joy, for pleasure, to celebrate life, its richness and multiplicity.
So I have started to celebrate life in different ways: in the food I eat, in the air I breathe, in the people I meet, and in the movements of my body. I have to admit that it is quite difficult to sustain this celebration for a long time, because the mind gets distracted and carried away with something else. However, even for a short time, it is so enlivening. It keeps you in the moment, carefree and happy.
"I open and close my hands
I open and close my eyes
and I feel...
the whole breath inside of me...
the beats of my heart...
The walks of my life...
~~~~ walks-beats of peace...

~ Victoria, Spain
I've tried to celebrate every thing. The sun. The rain. The snow. A smile and a frown.
Let's try to celebrate life in a yoga class with movement and breath. Celebrate breath with every breath you take, by being mindful of every moment of the breathing process. You're breath. Can you believe how alive you can feel by just breathing.
Celebrate being alive with every movement. Even as you open and close your hand. You can feel that you are part of this whole big thing we call life. Isn't that incredible? And you can feel so alive just by being mindful of every moment of every movement.
Written by Surya Kolpakov as a yoga class intro
San Diego, CA, 2005